July 30, 2020
NEW DELHI: The NEP 2020 proposes a major restructuring in higher education doing away with affiliation to the university system and empowering colleges to grant degrees, while the four-year degree, a proposal junked in 2014, is being brought back as the "preferred" option.
Besides the option of a three-year bachelor's and a four-year bachelor's with research degrees, there will be a common entrance test for higher educational institutions. The regulatory mechanism too undergoes a change, with a single regulator along with initiatives to allow much more multi-disciplinary study at the college level. The promotion of multilingualism too continues across the sector with proposals for setting up of National Institute for Pali, Persian and Prakrit and an Indian Institute of Translation and Interpretation.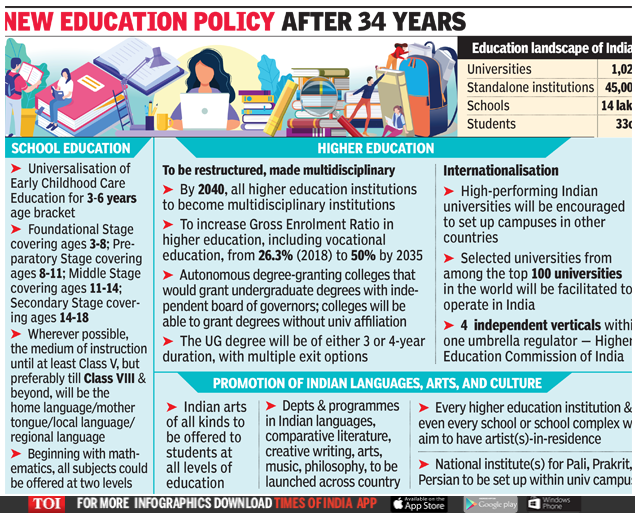 NEP calls for a transparent mechanism for fixing fees with an upper limit, for different types of institutions depending on their accreditation, to be developed so that individual institutions are not adversely affected. "This will empower private HEIs to set fees for their programmes independently, though within the laid-out norms and the broad applicable regulatory mechanism," it says.
The main thrust of this policy is to end the fragmentation of higher education by transforming HEIs into large multidisciplinary universities, colleges, and HEI clusters and knowledge hubs, each of which will aim to have 3,000 or more students. While the plan is to phase out the system of affiliated colleges in the next 15 years, it will also empower colleges to grant degrees and give them greater autonomy with an independent board of governors.
NEP drops M.Phil programmes which will give HEIs the flexibility to offer different designs of master's programmes. "There may be a two-year programme with the second year devoted entirely to research for those who have completed the three-year bachelor's programme … For students completing a four-year bachelor's programme with research, there could be a one-year master's programme and there may be an integrated five-year Bachelor's/Master's programme. Undertaking a PhD shall require either a Master's degree or a four-year Bachelor's degree with Research," it says.
The structure and tenure of degree programmes also gets flexible with either three or four-year duration and multiple exit options with appropriate certifications — a certificate after completing one year in a discipline or field, including vocational and professional areas, or a diploma after two years and a bachelor's degree after a three-year programme. "The four-year multidisciplinary bachelor's programme, however, shall be the preferred option since it allows the opportunity to experience the full range of holistic and multidisciplinary education in addition to a focus on the chosen major and minors as per the choices of the student," it says.
In a first of its kind proposal, an "Academic Bank of Credit (ABC) shall be established which would digitally store the academic credits earned from various recognised HEIs so that the degrees from an HEI can be awarded taking into account credits earned". Junior HRD minister Sanay Dhotre said: "The NEP 2020 is the most comprehensive, radical, and futuristic policy document in the educational history of this country. It does not recognise any barrier in bringing quality and outcome-based education to each and every one."
Another big change would be the regulatory mechanism . There will be a Higher Education Commission of India (HECI) with four verticals — National Higher Education Regulatory Council as a single point regulator for the higher education sector; meta-accrediting body called the National Accreditation Council (NAC); Higher Education Grants Council (HEGC), which will carry out funding and financing of higher education; and General Education Council (GEC) which will frame expected learning outcomes for higher education programmes.