October 7, 2020
NEW DELHI: Admissions at Delhi University, set to begin from October 12, could be blighted by fake documents and forgeries this year because the process has gone fully online. Forensic experts warn of this possibility because students are not required to go to colleges to physically verify the documents.
While DU asserts all submitted paperwork is subjected to scrutiny after the admissions, forensic experts allege that the past showed many colleges are reluctant to meticulously check the papers. In any case, they contended, it took months for discrepancies to be noticed, as in the case of former DUSU president Ankiv Basoya whose fake admission documents were discovered only at the time he filed his nomination for the union elections.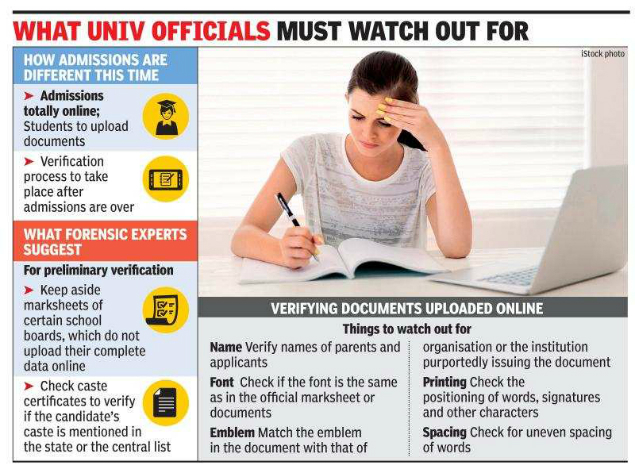 GS Sodhi, associate professor of chemistry at SGTB Khalsa College, agreed that the chances of faked and forged documents being uploaded by applicants were higher this year. Sodhi and his team have taken up forensic verification of documents of several colleges in the past few years. "Many colleges will be reluctant to verify the papers because the teachers have a huge class workload in the tight academic calendar," he said.
Sodhi added, "The institutions should have already put in a mechanism to verify the admission documents. A preliminary check can help identify fonts, emblems and location of words on the documents that appear doubtful. Such papers can be kept aside for scrutiny of the watermark, paper quality, printing, weight of the certificate, etc."
Sunil Singh, who was in charge of admissions at Kirori Mal College for two years, conceded that the verification process "takes months, and, so discourages many people". He added, "In our college, however, we spend several months going through each document submitted by the applicants." He pointed out how Kirori Mal had identified 22 students last year with papers from the West Bengal education board and required them to prove the genuineness of their documents.

Singh said, "Unlike in our college, where we verify documents issued even by CBSE, other institutions do not have a strong verification process. DU has to ensure proper scrutiny of papers."
The submission of fake papers at admission time was highlighted in November 2018 when DUSU president Basoya's admission in the university's department of Buddhist studies and as president of DUSU were cancelled after verification showed that the BA degree from Thiruvalluvar University he had submitted was a forgery. And yet, the process of verification took several months before Basoya's admission was annulled.
Cancellation of admission is a threat the colleges issue to get students to comply with proper procedures. Ramjas College principal Manoj Khanna explained that students have to give an undertaking that the documents they are uploading are authentic. "If the verification proves them faked, we will cancel the admission of the student even if it takes months or a year."
Shobha Bagai, dean of admissions, assured that DU would soon hold a meeting with the colleges on verifying documents. "Not all certificates require verification since documents of boards like CBSE are also accessible online," she said. "More important for us this year are the certificates uploaded by sports and extra-curricular candidates. We will either find an external body to take up the responsibility or ask the colleges to do so with their forensic verification teams."