August 31, 2020
NEW DELHI: Seeing that in a class of 62 students, only 15 were part of the online learning process in class VI, a teacher, Ajay Arya just couldn't be at ease. Arya a physical education teacher then decided it was time for him to get out in the field in search of the students who are part of the attendance roll but missing from the semi-online classes, which have been ongoing due to school closure caused by Covid-19.
Carrying his own microphone and a portable speaker borrowed from the school he has been visiting the different colonies in east Delhi close to his school. Arya is a teacher at Rajkiya Sarvodaya Bal Vidyalaya, Kiran Vihar.
"I also had a public address system but since it was not in use for long the battery was not working. I asked the principal and he readily agreed as I told him I will do some work for the entire school," said 45-year-old Arya.
In class VI most of the students are those who have moved from a municipal corporation school, which are called feeder schools. This year due to Covid-19 the process was conducted online. Earlier the government has also pointed out that this was a problem in most districts of the city.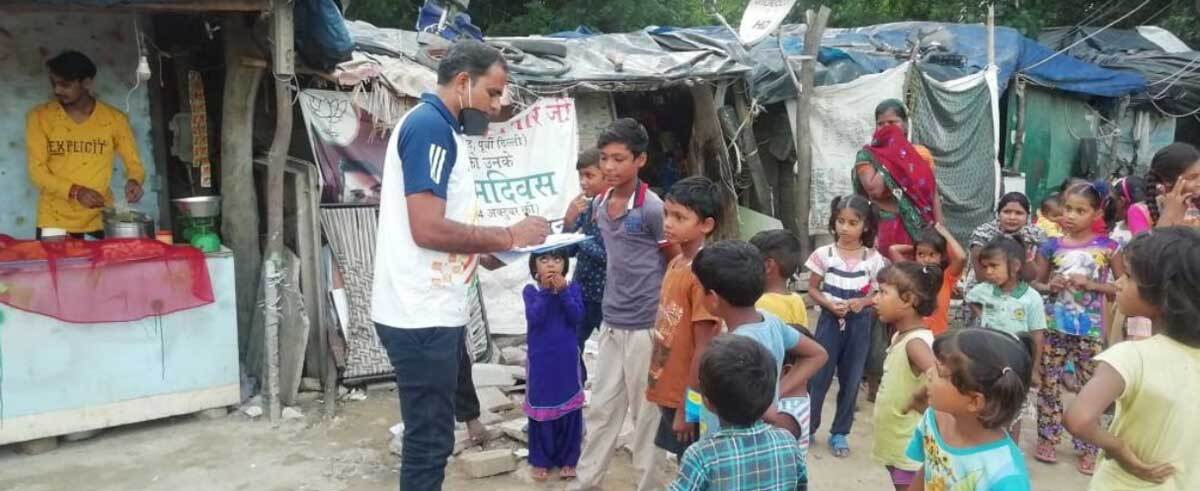 "In one class, which was VI B out of 62 registered only 15 students were associated with the online classes on WhatsApp. Out of which the contact details of 20 children were wrong and for another 20 their contact number could not be found. In many cases the primary school teacher had given her number itself as the parents did not have phones. Many did not know that their children had been shifted to a senior school," said Arya.
At first the class teachers gave them the colony wise list, which he divided into block and gali (lane) wise
Holding the mic with his mask on roams around the colony announcing the name of the students. Also informs them that even if they do not have smartphone or a phone, they could come to the school and collect worksheets.
Since August 22, he has visited different areas of Karkardooma, Surya Niketan, Hargobind Enclave, Anand Vihar, Sanjay Amar colony, Kiran Vihar and the unauthorized colony.
"When I went there I found out that many people had left. Some said that since they did not have smartphone they thought they could not be part of the online class. There was a gap and feels it was much required for him to do so," said Arya.
In one lane itself, he says he found students from class IV, VI and even XI who were not part of the system.
"Class teachers have told me after August 22 the number of students taking worksheet home has increased from 15 to 28 in class VI. In a class of 62 where 15 were part of the WhatsApp group that number has now jumped to 33," said Arya.
He has even been able to locate students who have gone back to Bihar, Madhya Pradesh and Uttar Pradesh.
Doing this work comes easily for Arya as he has been doing this since 1998 as part of his social service work. Apart from guiding students to study and work well he has been able to guide students in different villages and helped them secure jobs in police services.
To his credit is also being a coach of kabaddi where he was able to take his schools children for participating in junior kabaddi league in 2017.